6 Top Maker.io alternatives for web agencies in 2023
Marker.io is a feedback solution tailored for web agencies, marketing teams, and in-house software groups to easily gather and organize website feedback.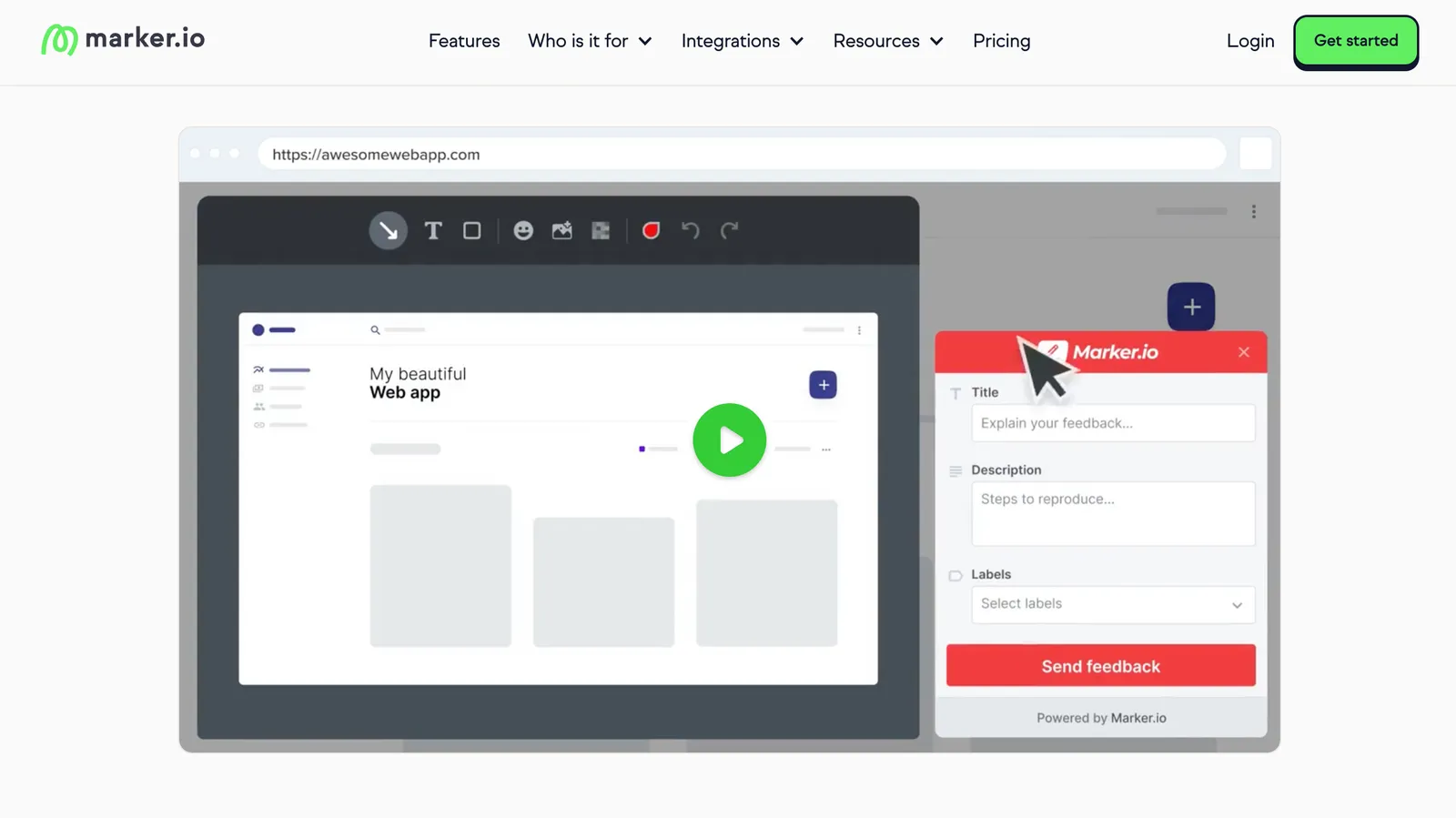 Marker.io has a range of features, including submitting feedback directly from the website with screenshots and environment details automatically attached, collaboration tools for handling communication about feedback items, and deep integrations.
In this guide, we will delve into 6 Marker.io alternatives for web agencies. We'll focus on how good these tools are at handling website feedback, because let's face it, that's super important for any web agency.
If you're after something cheaper, with different features, or just easier to use, then one or more of these 6 alternatives could be just what you're looking for.
1. Feedbucket

Feedbucket Features
Send annotated screenshots straight from the website.

Provide feedback through video recording, no extension required.

Two-way integrations with leading project management platforms.

Visual pins show where feedback has been submitted by others.

Captures important details like browser, OS, page, device, resolution, etc.

Automatically captures the console to more easily find JavaScript errors.

Customize the look to match your own branding.

In-website guest portal allows simple collaboration through comments, file sharing, and more.
Feedbucket Benefits
Designed for web agencies:

Feedbucket is tailored to address the specific feedback issues that web agencies encounter with clients and team members. This allows for decisions that optimize Feedbucket for this purpose.

Deep project management integrations:

Feedbucket deeply connects with top project management platforms. This means Feedbucket is not another tool that your team needs to log in to.

Task in Asana created by Feedbucket.

Easy for clients:

With no need for extra extensions or sign-ups, Feedbucket lets clients easily give, and see, feedback right on the website. This lowers hurdles and makes it more likely clients will use it.
Feedbucket Pricing
$

$

$
Marker.io vs Feedbucket: At a Glance
| | Marker.io | Feedbucket |
| --- | --- | --- |
| Used by | Web agencies, QA teams | Web agencies |
| Standalone tool | Yes | Yes |
| Price for web agency | $59 / month | $39 / month |
| Free trial | 15-days no credit card | 14-days no credit card |
| 2-way integrations | Yes | Yes |

Summary
Feedbucket closely matches Marker.io when it comes to features, even offering video recording, which Marker.io lacks.
The key difference is Feedbucket's specialization in serving web agencies and streamlining client feedback. This focus influences features like making it simple for clients to view submitted feedback on the webpage itself.
Price-wise, Feedbucket's Pro plan at $39 per month is comparable to Marker.io's Starter plan at $59 per month. If you're interested in additional features, Feedbucket's Business plan at $89 a month stacks up well against Marker.io's Team plan at $159 a month.
You can try Feedbucket for yourself with a 14-day free trial to see the difference.
2. BugHerd

BugHerd Features
Send feedback using either a screenshot or a video recording.

Offer feedback on a particular element of the webpage or on the entire page.

See where others have submitted feedback to reduce duplicates.

Automatically attaches technical details like Browser, Screen size, and OS

Set up through JavaScript code or opt for their browser extensions.

Collaborate on the feedback with comments and attachments.

Organize feedback using a Kanban board with robust project management features.
BugHerd Benefits
All you need to gather feedback:

BugHerd offers all the necessary tools to simplify feedback submission for your team and clients directly from the page. Each feedback entry comes with either a screenshot or video, along with additional context, making it easy to replicate the issue or suggestion.

Spot previous feedback:

BugHerd adds a marker where someone has already left feedback. This helps cut down on getting the same feedback more than once.
BugHerd Drawbacks
Full project management tool:

BugHerd aims to be a full-fledged project management tool, which can be redundant if you already use one. Given its per-user pricing, the costs can add up quickly if your whole team needs access.

Expensive for web agencies:

BugHerd's Premium plan is a must if you want JavaScript installation or native integrations. At $129 a month, it's more than twice the cost of Marker.io, making it a pricier option.

Lack of Integrations:

While BugHerd does offer integration with Zapier, which allows for a variety of third-party connections, its native integrations are limited to Asana, Jira, Trello, and Github. Additionally, none of these native integrations feature 2-way syncing capabilities. This means you may miss out on seamless data sharing between platforms, adding another layer of complexity to your tool stack.
BugHerd Pricing
$

$

$

$
Marker.io vs. BugHerd: At a Glance
Marker.io
BugHerd
Used by
Web agencies, QA teams
Marketing- and web agencies,
QA Teams
Standalone tool
Yes
Yes
Price for web agency
$59 / month
$129 / month
Free trial
15-days no credit card
14-days no credit card
2-way integrations
Yes
No
Summary
BugHerd is a strong contender to Marker.io for web agencies, boasting a similar toolkit for gathering feedback except that BugHerd also has video feedback.
BugHerd's limited native integrations are a drawback. The tool does not offer two-way syncing with other tools, meaning your team would likely have to log into BugHerd separately from your primary project management tool.
When it comes to pricing, BugHerd is on the steeper side. To get the full range of features for a head-to-head comparison with Marker.io, you'd need to opt for their Premium plan, which costs $129 a month—more than twice as expensive as Marker.io's $59 a month offering.
3. Usersnap

Usersnap Features
Offer both screenshot and video options for feedback.

Features over 30 integrations, including big names like Jira, Asana, and ClickUp.

Annotate the screenshots right on the web page itself.

Provides preset templates for quick start.

Enables team, and client, collaboration on feedback with comments and file attachments.

Gathers extensive tech info like the browser in use, the URL, and any JavaScript errors.
Usersnap Benefits
High level of customization:

Usersnap lets you fine-tune your feedback widget by picking colors and setting mandatory fields, making it suit your unique requirements.

One feedback inbox:

Usersnap provides a central inbox that gathers data and feedback across all your projects, saving you from having to hop between different project pages—everything's shown in a dashboard-style layout.
Usersnap Drawbacks
Limited project count:

The most budget-friendly Usersnap plan limits you to only five ongoing projects. For web agencies managing several projects simultaneously, you'll quickly reach this cap.

Excessive features:

Usersnap offers an array of tools that can be overwhelming when you're setting things up. For web agencies who just want a straightforward way to collect client feedback on websites, the sheer number of options feels excessive.

High cost:

Usersnap comes with a hefty price tag when compared to other feedback tools. While they offer additional features to justify the cost, if you're not utilizing those extra capabilities, the expense becomes a drawback.
Usersnap Pricing
$

$

$
Marker.io vs. Usersnap: At a Glance
| | Marker.io | Usersnap |
| --- | --- | --- |
| Used by | Web agencies, QA teams | Software teams |
| Standalone tool | Yes | Yes |
| Price for web agency | $59 / month | $189 / month |
| Free trial | 15-days no credit card | 15-days no credit card |
| 2-way integrations | Yes | Yes |
Summary
Usersnap is primarily a user feedback platform geared towards software development teams. It aims to help companies collect user feedback on digital products like SaaS applications.
The tool comes loaded with a variety of extra features, many of which may not be necessary for web agencies.
Given the limitations on the number of projects you can manage, you'd likely need to choose their Company plan, priced at $189 per month, making it one of the more costly options available.
4. MarkUp.io

MarkUp.io Features
Provide feedback and work together on websites, images, PDFs, and more.

Add video comments to feedback using Loom.

Automatically includes technical information such as browser type, screen dimensions, and operating system.

Collaborate on the feedback with comments and attachments.

Integrate with Zapier or Slack.
MarkUp.io Benefits
No installation required:

MarkUp.io eliminates the need to install anything on the website. It employs a proxy to integrate your website within its interface. This eases the feedback procedure on live sites and even allows commenting on websites you don't manage.

Feedback on different types:

Unlike Marker.io, which is largely website-centric, MarkUp.io enables you to gather feedback on a variety of digital assets, from images to PDFs. This is particularly handy when you're in the design stage and haven't transitioned to design software like Figma yet.
MarkUp.io Drawbacks
Basic Auth limitation:

If you usually secure your test or staging sites with Basic Auth, MarkUp.io might fall short. While it can manage Basic Auth through its proxy, screenshot capturing becomes an issue, potentially affecting your feedback cycle.

Not fully mobile-friendly:

Although MarkUp.io allows you to simulate mobile devices on your desktop, it's not the same as conducting tests on an actual mobile device. The platform falls short in offering a truly responsive experience for collecting feedback.

Another tool to log into:

If tools like Jira are already part of your workflow, logging into MarkUp.io can seem like an extra task. This is especially bothersome for developers who don't want to switch between multiple platforms just for feedback management.

Limited native integrations:

MarkUp.io does provide Zapier and Slack options—and might include ClickUp soon—but it's essentially a standalone solution. That means adding yet another tool to your existing stack, requiring adaptation from you, your team, and your clients.
MarkUp.io Pricing
$

$
Marker.io vs. MarkUp.io: At a Glance
| | Marker.io | MarkUp.io |
| --- | --- | --- |
| Used by | Web agencies, QA teams | Marketing-, digital-, creative agencies |
| Standalone tool | Yes | No |
| Price for web agency | $59 / month | $29 / month |
| Free trial | 15-days no credit card | 30-days no credit card |
| 2-way integrations | Yes | No |
Summary
While their names may be similar, MarkUp.io and Marker.io are distinct in their offerings. MarkUp.io uses a proxy approach, letting you collect feedback without installing anything on the website..
However, this convenience comes at a cost: your team would need to log into another tool, adding to your collection of platforms to manage.
If these drawbacks aren't showstoppers for you, it's worth noting that MarkUp.io is somewhat more affordable than Marker.io, priced at $29 per month.
5. Disbug
Disbug Features
Give feedback on any webpage through a Chrome extension.

Offer feedback using either a screenshot or video capture.

Annotate screenshots for clearer communication of your point.

Edit CSS and text elements and send that as feedback.

Records technical details like browser, URL, console logs, and network requests.

Share feedback without requiring the user to sign in.

Offers a form of session replay.
Disbug Benefits
Unique UI Review Portal:

Disbug offers something we haven't seen in other tools. You can pull a website into their UI Review portal and make direct changes to CSS and text. Then, you can submit these modifications as feedback. This could be really useful for both designers and those with technical skills.

Status Sync with Integrations:

Disbug has a feature where if you resolve feedback in another tool like Trello, the status gets updated in Disbug too. This only applies to the status of the feedback.
Disbug Drawbacks
Browser Extension Required:

While Disbug is geared towards dev teams and internal QA, where installing a browser extension might not be a big deal, it could be a different story for clients. Asking clients to install an extension adds an extra step, making the process less smooth. Plus, it rules out the possibility of submitting feedback from a mobile device.

Account Creation Needed for Clients:

Disbug requires clients to create an account to comment or collaborate on submitted feedback. While you can share a link to the feedback, commenting isn't possible without an account, adding an extra layer of complexity for your clients.

Geared Toward Internal Team:

As I've mentioned, Disbug is tailored for development and internal QA teams. This focus becomes apparent when you look at many of the product's features. These design choices can make it a less-than-ideal fit for web agencies seeking client feedback.

User pricing:

Understanding what Disbug counts as a 'user' can be tricky. All their plans come with a set number of users. If clients submitting feedback are also counted as users, the costs for using Disbug could escalate quickly.
Disbug Pricing
$

$

$
Marker.io vs Disbug: At a Glance
| | Marker.io | Disbug |
| --- | --- | --- |
| Used by | Web agencies, QA teams | Dev teams, QA teams |
| Standalone tool | Yes | No |
| Price for web agency | $59 / month | $49 / month |
| Free trial | 15-days no credit card | 7-days no credit card |
| 2-way integrations | Yes | Yes |
Summary
Adding an alternative that relies on a browser extension helps illustrate the pros and cons. While using an extension might initially seem convenient, the friction comes in when you consider having to persuade clients to install it and sign up for an account.
Deciphering what Disbug counts as a 'user' adds a layer of complexity to choosing the right plan. If clients are not counted as users, the $49-per-month plan might suffice. Otherwise, you'll likely need to opt for the $99-per-month plan.
6. Userback

Userback Features
Provide annotated screenshots and video feedback.

Features 2-way synchronization with numerous integrations.

Offers a variety of ready-to-use feedback templates.

Extensive widget customization options available.

Full on project management tool with all bells and whistles.

Includes session replays, micro-surveys, NPS, and a host of other capabilities.
Userback Benefits
Packed with features:

Userback comes loaded with a variety of tools and functionalities. While aimed at user feedback, it's a comprehensive platform that covers all you'd need in a feedback system. If your focus is client feedback, you might only scratch the surface of what this tool has to offer.

Guest portal right on-page:

This feature sets Userback apart, and it's something we've mainly seen with Feedbucket. Users can directly view and work on feedback right on the relevant webpage. No need to go through the hassle of signing up or logging into another platform, making it super easy for your clients.
Userback Drawbacks
Steep cost:

Userback's wide range of features comes with a higher price tag, making it an expensive choice if you're mainly looking for a client feedback solution.

Limited projects:

The more affordable plans cap you at just 5 to 15 projects. For web agencies juggling multiple client projects, this can be a significant constraint.

Hurdles in screenshots:

You won't get native screenshot capabilities unless you opt for one of their higher plans. This requires clients to download a browser extension, adding an extra step that complicates mobile feedback.

Designed to retain:

While Userback boasts strong integrations and acts almost like a full project management system, it seems geared to keep you on the platform. This could result in higher costs since they charge on a per-user basis.
Userback Pricing
$

$

$
Marker.io vs Userback: At a Glance
Marker.io
Userback
Used by
Web agencies, QA teams
Product Managers, Software teams,
Web agencies
Standalone tool
Yes
Yes
Price for web agency
$59 / month
$159 / month
Free trial
15-days no credit card
14-days no credit card
2-way integrations
Yes
Yes
Summary
Userback, like Usersnap, is primarily designed to gather feedback from end-users, rather than clients or team members. This means it includes a number of features, such as surveys, NPS scores, and product roadmaps, that web agencies may not need.
If you're a web agency, you'll probably have to go for the $159-per-month Company plan. The cheaper plans come with restrictions on the number of projects and lack native screenshot capabilities. This places Userback among the more expensive options out there.
Conclusion
If you're a web agency in search of an alternative to Marker.io, you might want to give Feedbucket a try.
The platform is developed by former web agency owners who are very familiar with the challenges of gathering client feedback and are dedicated to addressing this specific problem.
Feedbucket is designed to work hand-in-hand with your existing project management tool. The goal is to let you keep using the systems you're comfortable with, while taking your feedback process to the next level.
Try it out for yourself with a 14-day free trial.